Mrs. Roberta Mae Yee, was a long time resident of the Palo Alto/Menlo Park area, a beloved matriarch and a pioneer. She was one of the first Chinese-American women real estate professionals in Silicon Valley and was also known for her inspiring volunteerism in service to the community. She died on Oct. 15 after a month-long struggle with a heart condition. At the age of 92, she was the last surviving family member of the Greatest Generation.
Roberta was born to father Song Jong and mother Chai Ho Sun of Canton, China on Dec. 16, 1924. As a tailor by trade from Winnemucca, NV, her father led his family back to their native village in Zhong-shan (Guangdong Province) to help build a Presbyterian Church. At the age of 6, Roberta came to the U.S. with her family, including older brothers Stanley and Francis, to settle in the Sacramento Delta region. The Jong family worked as tenant farmers. They first resided in the town of Locke, a town built especially for Chinese immigrants.
In the 1940s during her studies at UC Berkeley (Cal), she met Dale F. Yee, a fellow student. Yee served in the US Army with the 11th Airborne Division and was directly involved in the Los Baños Raid (Feb. 1945), rescuing 2147 civilians. Legend has it that, Roberta won Dale with her pineapple upside-down cake. They were married in 1947 and between 1948 and 1962 had four children: Maejong, Daleson, Jon, and Challen.
After having lived in San Francisco and Dallas, TX, the Yees moved to Menlo Park, CA in 1955 where they started Joye Enterprises (JOngYEe) which formed an umbrella over the many home business ventures, one being a Westinghouse industrial electric car dealer beginning from 1966. Roberta continued to run the company after Dale died in 1996.
Roberta the Voice
Roberta loved the arts: singing, drama, and playing the piano. In the 1960s she performed in 3 musicals with the Palo Alto Players: Teahouse of the August Moon, the King and I, and Flower Drum Song.
She had a way of captivating an audience when she had opportunities to speak, or just in common conversation with family, by developing a lively story and punctuating it with a comedic twist. A few of her favorite comedians were Carol Burnett, Lucille Ball, Benny Hill, and the Marx Brothers.
During her over 50-year membership at the First United Methodist Church of Palo Alto, she was often called upon to be a scripture reader and she read aloud in a voice and cadence that was truly her own. As one church member commented, "I really enjoy [Roberta's] reading of scripture, she's unique … she's very motherly."
Roberta Yee Realtor, the Quiet Hero
She received her professional calling in the mid-1960s. Inspired by the sight of a realtor seated comfortably reading a magazine during an open house, Roberta thought to herself, "That's easy, I can do that!"
Soon after, she started her real estate career in Palo Alto. One of the firms she worked for was E.W. Armentrout Realty, on Ramona Street (Mr. Armentrout was a retired U.S. Navy Admiral who was present on the deck of the USS Missouri at the ending of WWII).
In the early 1970s, Roberta created Roberta Yee Realty. The original "hat lady", she remained involved in real estate work until late in her life.
Roberta was a quiet hero, she put the needs of her clients above her desire to make money, often creating ways of helping struggling families buy homes they might otherwise not qualify for. She not only helped the Yee family with her selflessness, but many others. Nevertheless, humble as she was, her contribution as a realtor were often vital when Joye Enterprise and Dale's businesses would go through periods of struggle.
As a real estate professional, Roberta Yee treated people respectfully on both sides of the highway and developed many life-long friendships with those who she represented.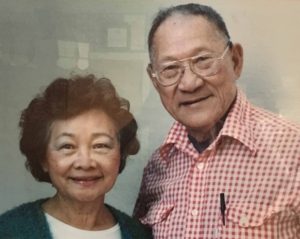 A Life for Service
Mr. and Mrs Yee had a serious knack for community service. In 1967, they co-founded the Chinese Community Center of the Peninsula (CCCP), a family-oriented organization in Palo Alto (where they moved their family to in 1971). The original location of the CCCP was Canterbury House, which still stands near the corner of Emerson and Embarcadero, it doubled as a meeting/activity center and housing for Stanford post-graduate students.
The CCCP created and sponsored the Chinese Little Olympics, a family-team annual event that was fun and competitive. Cubberley High, Foothill and De Anza College were each used to host the one-day event. It eventually attracted athletes and runners from around the country. Around 1983, the CCCP handed over control of the Little Olympics to another organization.
In the 1980s, Roberta proudly helped Dale with creating the General Joseph M. Swing Chapter of the 11th Airborne Association in service to veterans. Dale also founded Airborne Quarterly Magazine and Roberta contributed as co-Editor.
Roberta, "the food lady," used her skills to provide delightful catered meals including for a monthly senior luncheon, a local New Year's Eve Day Bash, and the press room for Stanford Women's Basketball.
In 1999, she received the "Most Compassionate Realtor Award" from the Silicon Valley Association of Realtors. Some local groups she was active with were the First United Methodist Church of Palo Alto (since 1963), Stanford Area Chinese Club, Palo Alto Historical Society, Santa Clara County Council on Aging, Lytton Gardens, and Avenidas, an agency serving seniors, who in 2003, awarded her a Lifetime Achievement Award honoring her for the "depth and significance" of her work.
..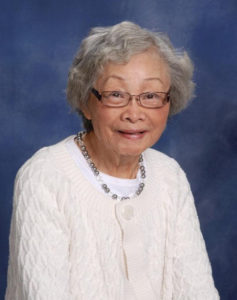 In Closing
Roberta is survived by her four children: Maejong Zawaydeh, Daleson (Darlene) Yee, Jon (Beverly) Yee, and Challen (Leona) Yee. Grandchildren: LaRon (Deborah) Johnson, Chi Johnson, Errol (Emily) Johnson, Kellen Yee & Ashley (David) Yee-Mazawa, Stuart, Serena & Sylvia Yee, and Challenson & Hannah Yee. Great-Grandchildren: Khalid & Khalil Johnson, Brandon & Donovan Johnson, Quinn Johnson, and Zella Yee-Mazawa. She is preceded in death by husband Dale in 1996.
There's so much to a person's life, we can only scratch the tip of the stories and this is so true of Roberta Yee.
Roberta inspired others by her devotion to family, kindness, easy-going nature, sense of humor, story telling, delicious food, hats, service to others and "Can Do" spirit.
There will be a memorial service
SATURDAY, NOVEMBER 11th 2017
The First United Methodist Church of Palo Alto
9:30am – viewing for immediate family
10:00am – 11:00am – viewing for family and friends
11:00am – 12:30 pm – Memorial Service
12:30pm – 2:30pm – Reception (RSVP requested for reception by November 6th: contact Challen Yee at challenyee@yahoo.com or by calling, text or message to (650) 704-2008)
Donations may be made to:
First United Methodist Church of Palo Alto, 625 Hamilton Ave, Palo Alto, CA 94301 (www.firstpaloalto.com ) or the Chinese Community Center of the Peninsula, 470 Anton Ct, Palo Alto, CA. 94301
Share this with others who knew my mother Roberta Yee.