I. SAVE THE DATE   -(LAS VEGAS MAY 2018 REUNION HAS BEEN CANCELLED DUE TO BOAT'S DECOM SCHEDULE)
II. MORE 698 REUNION NEWS
III. ABOUT THE BOAT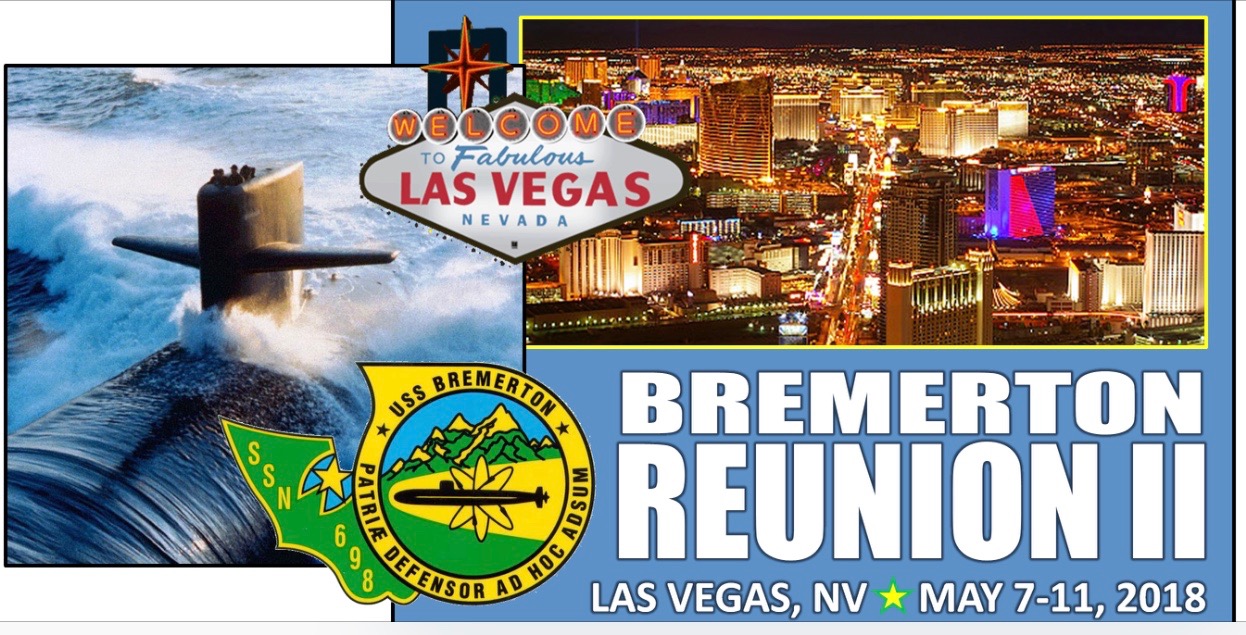 -(LAS VEGAS MAY 2018 REUNION HAS BEEN CANCELLED DUE TO BOAT'S DECOM SCHEDULE)
A Big "SAVE THE DATE" News FLASH from the resident choreographer of the successful reunion in RENO, Rich Crombie offers this exciting update:
USS Bremerton Reunion II is in the planning process and based on discussions held at the Reno reunion! Las Vegas is the perfect place to gather, play, and rejoice in our brotherhood! Monday May 7th, through Friday May 11th (7 come 11 for you craps players) are the dates which also coincides with the 42nd anniversary of the Bremerton Keel Laying (May 8th, 1976) which we will undoubtedly commemorate!
Nothing is set yet as far as activities, events, hotels, etc., but we will update the official reunion website as details emerge and get confirmed in the coming months. We welcome any and all ideas which we'd love you to either post below, or write via email from the website www.bremertonreunion.com.
The point of this note is to ensure you start planning now and SAVE THE DATE!! Please pass this info along to any shipmates you're friends with or you know of who may be interested. Spread the word and let's make Vegas 2018 the best liberty port yet!"
*
*
Rich has a touch of Da Vinci creating event ideas. Just recently he told me he's about to come up with some proposals that's got him excited. Can't wait for the first rough ideas.
MORE 698 REUNION NEWS
THOUGHTS ON A SUCCESSFUL REUNION
By Challen Yee
One of the important reasons our first reunion was such a success was that everyone in attendance had a strong sense of belonging.  We are Cold War Bremerton submariners, having served together within a few year span early in the boat's history. Attendees could immediately connect with everyone else. What was very helpful was active participation in social media beforehand which greased the skids for everyone. We were a very psyched and cohesive group who were participating in all activities, from the variety of planned events to the free-for-all in the hotel lounges.
It was hard to say goodbye, and the emotional high of the reunion was such that we are excited to jump right into organizing another big celebration.
Should be great, even the Nucs and A-Div are stoked for the next one!
With that profound and happy realization, follow along with me for a bit of a serious diversion. I promise to surface at the end after we go deep.
Down inside, we know all is not for simple amusement, there is a transcendent sense of purpose, built upon the realization that the experience of being submariners is far greater than ourselves.
The scope of the second reunion is going to be broader, poised to encompass a wider number of 698 crew generations. We know, coming to a reunion, even for us old classics (to borrow a term from Wes Bringham) is a little like being new to the boat, there will be some anxiety. No one likes to feel left out of the greater group.
The organizers are sensitive to this anxiety and we're dedicated, on one hand, to helping our generation, to hoist a few rounds of their favorite beverage in remembrance and share some special quality time together to create new memories in honor our service and our friendships. On the other hand, it does not end there.
We also are bound to welcome, with all camaraderie, those proud professionals warriors of the deep, each of you who have had to trust your life to your shipmates, during every day of those underwater exercises and operations, whether they were one day or 90 days. Just imagine, they had to rely on you too.
Who are we thinking of? All of you submariners who have prepared Bremerton for duty and have taken her out to sea to be ready for the fight.
I believe there is an aspect of 698 submarine spirit and of submarine camaraderie that will prevail and that is, effective unit cohesion comes from every division, department and sailor coming together as a unified team in service to a single mission.
MiSSION: Leave No Shipmate Behind
At first, cohesion may not seem to exist with individuals striving to fulfill life destinies apart from the boat, but through determined effort and pulling together to achieve a common mission will the disparate parts become an effective whole. Strive for the goal of No shipmate being left behind.
The SEALS may have their battlefield code to "Leave no man behind" and so may we as submariners over life and time, endeavor to "Leave no shipmate behind."
Granted, there may be some of our cadre who are not ready to reignite old flames, but this is not a problem. Just keep the invitation and welcoming hand out there. Build relationships with the willing while you have the chance. Be there for others when they are ready. We're stronger together than apart.
THIS JUST HAPPENS TO BE WHAT WE ARE UP TO
By promoting the 2018 Reunion, we're letting the 698 Community know what we are up to.  We realize we're not the only organizing group, and our ideas are not necessarily tuned to everyone's mode of operation. We encourage others to get together and do what turns them on by organizing events that fit their motivations, interests, and budgets. Just getting together with one person you served with is a fulfilling experience.
We like the idea that we're planning our event out far enough that people can work with  us or around us, whether it is another 698 or submarine reunion, wedding, anniversary, birthday, company celebration or other important event. Keep on following our posts and see how things shape up, you just might want to sign on.
If you are a 698 submariner interested in our reunion information and updates, I invite to you to:
Website:   www.BremertonReunion.com
Facebook:   USS Bremerton SSN698 Reunion
Linkedin:  Bremerton Reunion SSN 698
ABOUT THE BOAT…
USS BREMERTON, the American Classic, stands to become the RECORD SETTING LEGEND
According to the estimate of off-going Bremerton skipper Cmdr. Wes Bringham, there are over 1300 sailors who have called Bremerton their home. That's a lot of Badfish Alumni who have served aboard 698 over 35 years of active service. The numbers hosted by Bremerton are destined to grow.
Will she also have the largest lifetime roster of submariners serving on one US Navy SSN?
.
To the best of my knowledge, the USS Kamehameha SSBN-642 (converted to an SSN) has the record for the longest serving US Navy nuclear powered submarine at almost 37 years, spanning from 1965 to 2002. At the current proposed plans of the Navy, Bremerton, an active Los Angeles Class Attack Submarine (SSN), commissioned in 1981, stands to exceed that record and become the longest serving United States Navy nuclear submarine EVER.
NEXT IN LINE: FLASH TRAFFIC COMES AT PD… DISTINGUISHED 698 ALUMNI TAKES 688 CLASS TO WAR ON 9-11
*******
LOOKING FORWARD
USS Bremerton SSN 698 is the longest serving commissioned submarine in the United States Navy, is home ported in Pearl Harbor, Hawaii, and is tentatively scheduled for decommissioning in 2019.
SAVE THE 698
Join the Movement. Are you passionate about preserving the USS Bremerton in any way shape or form after her decommissioning for the benefit of the public and of naval history? You are invited to a new closed group forum on Facebook "SaveThe698" to be involved in public discussion related to Saving 698. You can see the group site by clicking HERE.
CKY