Are you looking for a missing link in your life trek, a means of getting the fulfillment and the empowerment that may have eluded you?
Maybe you are just seeking to get the every iota out of life?
You've heard all the tips and tricks to build your business, get leads and everything else you can imagine. You need to do the work, we all need to do the work, but the question is, could you be doing it in greatest harmony with who you are as a person? Seeking this avenue alone could bring you the happiness and fulfillment that you never thought possible.
I am currently studying Russ Whitney's latest work "Inner Voice" and I am struck by his soul concept. Your body does not have a soul, rather, your eternal soul has your body. The power potential that exists in freeing the soul, your soul, to do its intended work through your humanly body is determined in great part by your ability to remove the restraints caused by unresolved issues, especially related to your relationships.
In Whitney's Inner Voice program, he offers you a strategy using a very comprehensive method to weed out every source of negative influence in your life. I'm looking forward to diving deeper into his program over the next several weeks or months.
I anticipate that this will result in a significant to major effect on my pursuit of my goals, the goals that make the biggest difference, the ones that speak to who I am as a person.

In the meantime, I have a very high percentage move you can work on ASAP to begin a breakthrough in your life. Just to let you know, this idea in through a synthesis of my experience, reading and study of the Bible.
Whether your parents were active in your life or not, they have a significant, if not the most significant influence on your life, so any unresolved conflicts that stem from this relationship will in turn have a significant effect on your earthy success, empowerment and fulfillment.
Even if you were adopted and never met your birth parents, for example, like Steve Jobs, you are included. Be included my friend, be included.
This is why I believe there should be a refocus on the transferring of blessings from the old generation to the new.
"Seeking a blessing?" you may ask, "Come on Yee, what are you talking about?"
.
THE INTER-GENERATIONAL BLESSING
What I am talking about is the inter-generational, inherited mark of approval, historically most often seen given from father to son type of blessing. But it could also be from either or both parents, a guardian, a mentor, a leader for the benefit of those who will succeed them in the future, but primarily from your parent or parental figure.
The act of receiving a blessing will have a major impact on the vibration of your soul and your ability to move forward in you life rather than be bogged down from past experiences.
An early story of obtaining a blessing can be found in the Bible in the story of Jacob and Esau. Jacob was actually the younger but he and his mother schemed to receive the "birthright" from Isaac the father who was nearly blind and convalescent in bed. Sort of a scandalous story but nevertheless it illustrates the power and promise contained in the passing along of a blessing and how it should not be taken lightly (Refer to Genesis 30).
In Stephen Mansfield's "Book for Manly Men," he covers the subject of receiving a blessing with a little known story about General George S. Patton, the famous World War II American general who was tasked to campaign against the Germans in north Africa. Before General Patton went overseas, he sought the audience of his mentor, retired General John Pershing who was is poor health residing in a hospital at the time. The story is as moving as it is significant in the annals of human history. As almost an aside before he left the older General's side, Patton asked for and received the blessing he sought and subsequently became one of the most victorious combat generals in history.
More relevant for us, though, is Mansfield's own story of seeking a blessing from his father, who was a veteran Army officer who was stoic in nature. Mansfield's story meets us where many of us are because many of us children are or can be somewhat estranged from our parents, or fathers in particular.
He knew it was beyond expectation that his father would go out of his way to offer him a blessing, much less a ritualistic one. After deep and prolonged consideration, Mansfield decided to, instead, give a blessing to his father. He wrote in gratitude, extolling the often un-thanked rituals of daily routine and other virtues his loyal and dedicated father had displayed throughout his life.
What Mansfield received was not expected, but turned out to be a realization of his deepest desire as his father, after having read his son's tribute, wrote back, engaging the fields beyond stoicism, how he was moved and was proud of his son.
Wouldn't that meet one of your deepest needs as a human being, to be touched by a blessing by the people, particularly ones father, who brought you into this life?
Before my own father passed away in from cancer 1996, I read a book by Dennis Rainey called "The Tribute" (currently republished as "The Tribute and the Promise") and it is based on the 5th Commandment that we "Honor our fathers and mothers so that the time in the land God gives us will be long"(Exodus 20). I wrote a letter of gratitude, of tribute, and was able to read it to my father while he was still alive, and like Mansfield, what I received from my father was nothing ceremonial, but a few words I know had significant meaning for him. How much is that worth? To me it's worth a lot.
(The mainly video covers blessing in relation to Mansfield's book, and BTW, I'm just joking about being in a 'used car' parking lot and apologize ahead of time for some of the wind interference)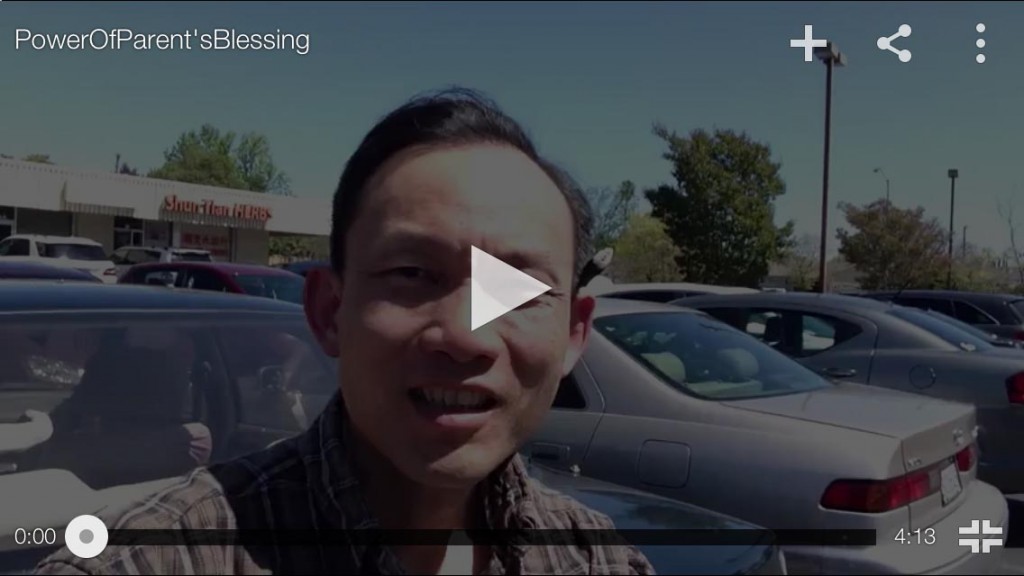 There may be many things you may regret in life, but don't focus on what you lack, focus on what your abundance and how you can be a blessing to others. When you give, as Whitney recommends, with honest, pure, unselfish and loving intention, you receive and often more than what you give.
Dennis Rainey, the author of "The Tribute" wrote his father a tribute, but it was not until after his father's passing. So be encouraged to seek this blessing, even if you must find it in your heart to give the blessing to your parent who is no longer living or no longer active in your life.
From a parent's point of view, I believe we need to have a vision of what is beyond the horizons of our own lives and provide a better future through a blessing to the next generation.
May you have blessing and be a blessing to others.
.
If you received some value from this, please LIKE SHARE COMMENT
.
You may contact me at by email at: challenyee@challenyee.com
.
Backup link to video: http://youtu.be/GPXKo-q23n4
.
I'll see you… on the next page