Dr. MLM and THE MAGIC TURNAROUND
Video Note: I did today's video on the fly while driving my car and I am using the first cut. I find this is not the optimum way for me, but you may find it informative nonetheless. When you are starting in video, for me for where I am at, I know taking 3-4 cuts would make a better video, my message would be more concise and shorter. I like the 2-3 minute range for people's general lack of attention span, but for those of you who enjoy just "riding along", well… the vid's for you, bro!
The other thing that is more obvious on a desk top than a mobile device is the amount of vibration caused by driving. So get ready with your ginger snap cookies or sea-sick pills if your squeamish… hoo-yah!
Okay, enough rambling, let's get to the topic.
Are you waiting to get out of that morbid cubicle, trying to build up your home business so that one day you can be free?
How powerful would it be for you to envision yourself in such a way that it would increase your conversion rate of your prospecting efforts in your network marketing business?
Well, I have a tip for you that just might do it for you…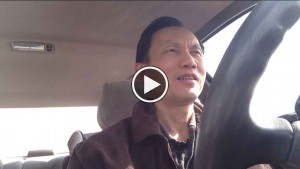 Be "Doctor MLM" and bring about your MAGIC TURNAROUND
As a Licensed Acupuncturist, I know that the best treatment comes from after you spend time consulting with your patient. Before I start inserting needles into a person's body, I want to economize the effort and reduce the amount of wasted time on my part and also to conserve the patient's energy since applying a too many needles will unnecessarily drain energy from your patient.
Guess what? You too must adopt this principle as a skilled network marketing specialist or professional because if you do not want to waste your time and your prospect's energy.
It may be that you'll find out that the prospect is not even a fit for your business, but wouldn't you rather find that out sooner than later?
More than likely, though, what you will accomplish the "magic turnaround" (BTW, I just created this term). The MAGIC TURNAROUND is when the plan you offer, is "no longer your idea," as Ray Higdon has said it, "but your prospect's idea." Now he or she is motivated to see your presentation because you should have been able to present this as the potential "solution" to your prospects woes rather than just asking, "Can you look at my thing?" (A Ray Higdonism).
Cesar L. Rodriguez alerted me to this problem: what about when they ask, "Why do you have to ask me so many questions?" (A question, fortunately, I never get asked as an Acupuncturist/health practitioner), but you can say something like, "In order for me to help come up with the optimal solution, I need to best understand what your situation and your goals are," I would add, "I hope you don't mind, because it's like being a good doctor" You can say whatever comes more natural for you.
Now do you have to use this technique all the time? I think you should strive for this, because it is does create the MAGIC TURNAROUND, but it will not be easy to execute in all situations, like when your prospecting the guy in the drive through window. Just keep the idea in mind and you will learn to know when to use it if you are intent on becoming the network marketing professional.
.
SO are you ready to become an MLM PhD? Hoo-yah, baby!
.
If you've got some value from this LIKE SHARE COMMENT
.
You can contact me at: challenyee@challenyee.com or go to my contact page
BTW, I invite you to check out my my research on personal development in the form of a report/guide to OVERCOME this MENTAL OBSTACLE, that right now for a limited time, I am offering for free. Just sign in with your name and email and it is all yours.
.
I'll see you… on the next page