The following poem was written by me about 10 years ago when a friend took his own life. I'm transcribing it just the way I wrote it back then without second guessing myself.
The photo is from our 1979 Palo Alto High School yearbook, his graduating year. Mark is shown (center) posing for an auto shop photo.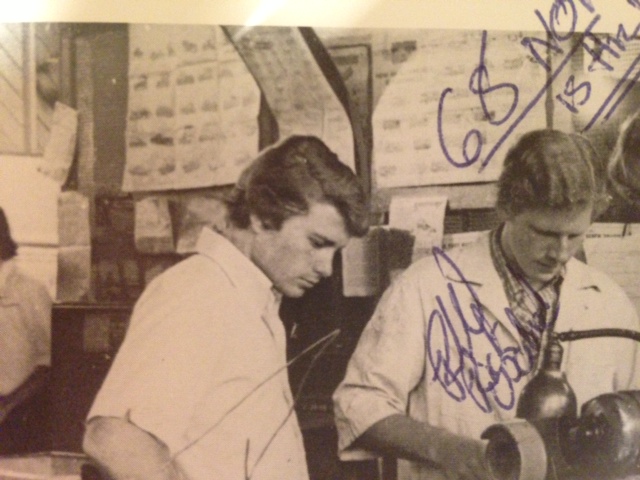 My Friend Mark Lightburn
I cannot remember exactly when the last time I
saw him,
but I remember the last time I saw him and spoke
with him.
I can not believe that he is gone,
it seems like there must be a mistake, another
person of the same name perhaps.
Yet I only know one person whose name is Mark Lightburn who attended our church.
He and I went to the same high school.
He graduate a year before I did but we were of the same generation.
I remember him long ago when we was slimmer
and driving the black Grand Torino.
Recently he was layed off, but said he had found
some temporary work.
He always had an encouraging message for me and
made it a point to say "hello".
We went to a few Giants games together. I will
always remember, it was just us watching the
Giants play.
We had gone to Candlestick a couple of times.
Two years ago, thanks to him, I went to Pac Bell
Park for the first time.
We enjoyed talking about baseball and shooting
the bull about the Game.
In school or in Little League he played outfield.
I remember when one of the young adult groups
got together, I got a glimpse of the Mark Lightburn
of old, when he hurled the ball with an accuracy
that never left him.
He listened to how I read aloud the Scripture in church and
always gave me positive feedback.
When I told him I get nervous when I speak
publicly, he assured me that prayer to God will
provide what I need.
I liked Mark, he was a good and encouraging
person.
I cannot believe, he committed suicide.
Maybe it's a mistake and I'll see him again sitting
on the other side of the sanctuary like he usually
does. If he does I know that I would greet him
like a long lost brother, ask him out to lunch and
spend some time listening to him, tell him about
my latest plans, my latest breath of hope.
Death should not be a surprise to me.
I hear about it every day. People die and we go on.
It's natural, when we do not know, then we do not
care.
Sometimes we DO know, and we do not care
but for a passing thought, a hopeful prayer shot up
to God.
But I knew Mark Lightburn. I do care and it hurts,
as if I failed some simple course in humanity
by not knowing, by not recognizing,
by not taking the opportunities
as they presented themselves for better fellowship.
Maybe I wasn't his best friend or anything like
that, but we were friends.
Again, the lost opportunities haunt me.
Someone whom I cared about has died.
If what I hear is true, he took his own life.
I bear a sense of loneliness, hopelessness, and
failure,
as a person, a man, a Christian,
that must have overwhelmed him.
(See you… on the next page)